Gatekeeper is a technology that Apple has implemented in OS X Mountain Lion to protect you from downloading and installing malicious software on your Mac. Gatekeeper gives you control over which apps you install:
You can choose to download and install only apps from the Mac App Store.
You can use the Gatekeeper default option, which allows you to install apps from the Mac App Store and apps from identified developers.
You can download and install apps from anywhere on the web.
When you download an app from a developer's site and get a message like this: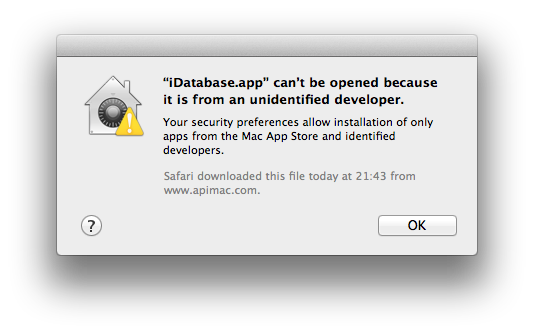 It means that that piece of software is not signed by an Apple identified developer.
Apimac is gradually releasing new versions of their applications signed as Apple identified developer, so, if you have the default Gatekeeper option in the System Preferences, you can install apps dowloaded from Apimac site on your Mac. How long will it take? We expect to be able to release the majority of applications within a month from today.
Note: this problem only affects users running app downloaded from the Web and not users that use Mac apps downloaded from App Store.
Links:
You can learn more about Gatekeeper and other security features visiting this Apple's Site page.