In the new version of Clean Text for iOS, we have implemented URL Schemes, the number one feature requested by users, how will this improve the use of the app?
Clean Text for iOS is an app for iPhone and iPad designed to be used quickly without slowing down the user's work. In fact it is an app that often enters the workflow of the user in a flash mode, then disappears in the background, leaving the field to other apps.
Clean Text is a bit like the scissors for a seamstress, most of the work the seamstress does it with the sewing machine, but very often picks up and uses scissors, her work would be impossible without the scissors. Precisely for this reason, all the interaction of Clean Text has been studied from the beginning to be fast and focused on the task.
With the implementation of URL Schemes in the app, this concept is taken to the extreme: it will be possible to use the numerous text processing features of Clean Text without opening the app. Simply enter the app in Workflow actions, or other applications that use URL Scheme, and the communication between Clean Text and other apps will do the job.
Here is an example of using Clean Text within a Workflow action:
Sophia works in a marketing company, her boss often sends texts to check on. Unfortunately, her boss uses straight quotes in the texts and so Sophia always finds herself having to change them with those curves. Then she must send the text to one of her colleagues for publication.
Currently the work is done through the passage in various apps (including Clean Text) and several copy paste, in the end, Sophia with Mail sends the correct text to her colleague.
Using the new URL Scheme features, Sophia can do everything with a single app and a couple of taps: she creates an action with Workflow that sends the text to Clean Text to replace the quotation marks, Clean Text performs the job and sends the processed text back to Workflow. Then Workflow creates the email.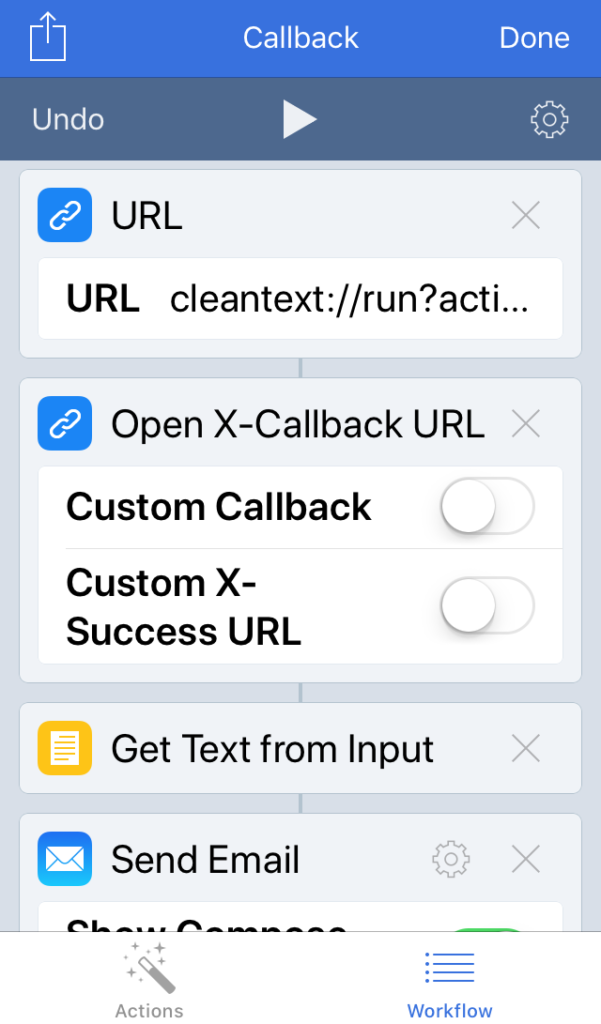 Do you want to try now? Here is a guide prepared by our team: How to use the URL Schemes feature in Clean Text for iOS!
Thank you all!
The Apimac Developer Team
Related Links: