Clean Text for Mac
An essential tool for creative and professional Mac users.
Clean Text for Mac is an essential tool for web masters, graphic designers, developers and magazine editors to reduce text cleanup time. Clean Text performs automatically many indispensable functions such as removing empty lines and unwanted spaces, converting tab characters and quotation marks, converting smart quotes, tabs, returns, and more.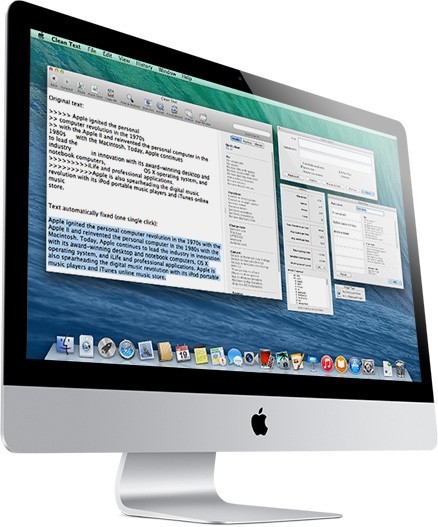 Quick Clean
Solve with a single click the most common cleaning problems of text.
Clean Text it's a must when you have to paste some text copied from one document or application into another, and you want the text to get the attributes (such as color, font, dimension and style) of the new document instead of preserving the attributes copied from the old one. What's more, the brand new Quick Clean action let you solve with a single click the most common cleaning problems of text found in email messages, documents and web pages.
Try the Iconized Window
Fix text and strip style of the text in the clipboard.
Clean Text sports the brand new Iconize feature: just a click and your favorite application becomes a handy and small window that stays on top of all the other windows and performs on the text present on the general clipboard of the Mac, two of the most used features: fixing text and strip style.

Many reasons to use Clean Text
Simple to use but powerful in functionality.
Fixes Paragraphs.
Removes returns within a paragraph and removes multiple empty lines between paragraphs.
Replaces multiple spaces with a single space and removes spaces at the beginning and at the end of a line.
Replaces each tab with a specified number of spaces.
Replaces each sequence of a specified number of spaces with a single tab.
Removes returns.
Replaces each return with a single space.
Adds a specified number of spaces before each line (delimited by line ending).
Sorts all the lines all the lines of the text (delimited by a line ending) using ascending order.
Capitalizes sentences. Capitalizes the first word of each sentence (delimited by "." and ellipsis "…").
Capitalizes words.
Sets characters to uppercase.
Sets characters to lowercase.
Random case.
Removes duplicate lines. Keeps only the first line between a group of equal lines.
Text encoding. Windows to Mac encoding.
Mac to Windows encoding. Converts MacOSRoman encoding to Windows Latin 1.
ROT-13. Rotates characters 13 positions in the alphabet.
Converts to smart quotes.
Removes the quoting characters ">" at the beginning of lines.
Adds the quoting characters ">" at the beginning of lines.
Reverse text. Reverses characters.
Reverses each word.
Reverses words.
Converts three periods to ellipsis. Replaces each chunk of three periods with one single ellipsis (in Mac version only).
Converts ellipsis to three periods (in Mac version only).
Encodes to Macintosh Line Endings (CR).
Encodes to Unix Line Endings (LF).
Encodes to Windows Line Endings (CR+LF). Converts all line breaks to "Carriage Return"+"Line Feed"
Replaces curly quotes with straight quotes.
Text shifting right or left.
Converts to straight quotes.
Replaces quotes with curly quotes.