By Ivan Gobbo and Ricardo Montiel
May, 2003
One of the most important restrictions of the current computer interface — and, in general, of any device — is the scarce space imposed by available monitors. This annoying limit forces developers, programmers and designers, to difficult situations while they try to fit their ideas into such limited space. It is reasonable to think that an about of 40% of the efforts in designing a given human/computer interaction interface, are dedicated to workaround the space limitation. And from a user point of view, learning what the computer is doing by looking at one or more monitors is as unsuitable as trying to see the sea with a submarine periscope. So in May, 2003 we at Apimac started to work out some ideas that can help the computer industry to solve this problem. Nowadays, many think that the better solution is to use an even bigger monitor, but we soon realized that the actual solution is to remove the problem.
In our view is time that the computer industry begins to develop a holographical system in order to overcome the limitations imposed by the monitor-based visual user graphical interface.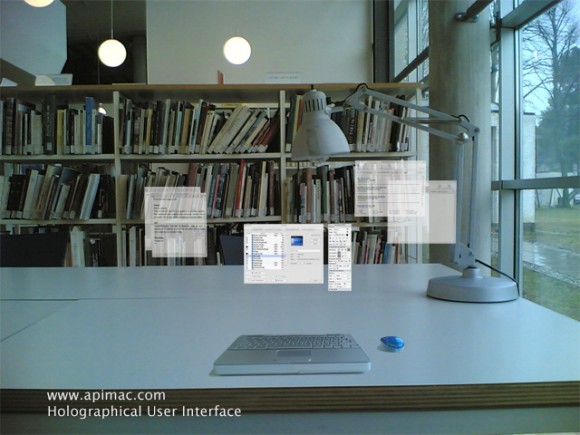 In such kind of system, the various interface graphical elements are holographically projected into the space. All the spatial constrains due to a physical display are removed, and so people can now arrange any element as they are used to, and they are not forced to give up their habits of work and preferences. In such environment, users can place any element at the distance, dimension, and magnification that they find confortable. Any element can be rendered as a shape at any level of transparency and arranged in the space at their own will.
Please note that the device illustrated in this page is not a real prototype nor a commercial product, but just a concept rendering.
Useful links:
Holography – Wikipedia, the free encyclopedia
Graphical interface – Wikipedia, the free encyclopedia
Dynamic Display of Real and Virtual 3-D Holographic Images Using TI's DMD
Digital micro-mirror holographic projection – United States Patent Application
Dynamic holographic 3-D image projection
Holographic controls add sizzle to kiosks
Holographic interface You think this is the real Quaid
'Holographic' interface developed
Holographic interface's keypad images float in air HoloTouch, Atlantex's BeamOne Touchless Holographic Interface Staff
Recently added links:
IO2's Heliodisplay – Display any video source in high-resolution without the need for a screen.
Dynamic holographic 3-D image projection
Photograph Holographic Projections Resources
Multi-Touch Interaction Research