Self Timer for iPhone and iPad
Delays of up to a minute the shooting of twenty photos in sequence.
Place your iPhone or iPad, press the self-timer button and after the number of seconds that you decided the photo will be taken automatically. The standard time provided for the self-timer is ten seconds, but you can change it to three, five, ten, fifteen, thirty, or even sixty seconds. This feature is also very useful to prevent camera shake caused by contact with the iPhone while shooting. And with the Multi-photo feature you can take a lot of photos in sequence and then choose the best to share.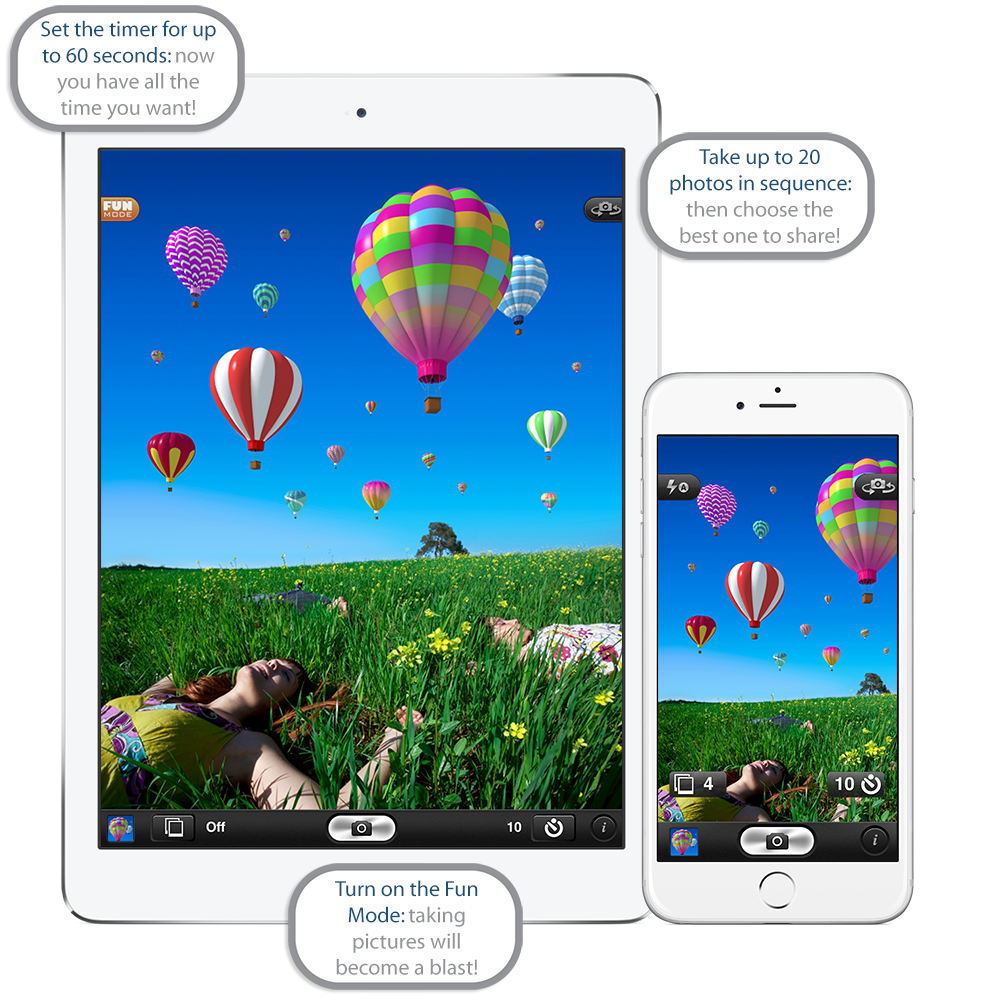 Share smiling photos
Use fun mode to catch the attention.
If you want to get the most fun activate the Fun Mode, take pictures of the group will become a joke and finally your subjects are smiling. A fun way to spend some hilarious moments with others and get the most original photos.
Many reasons to use Self Timer
Simple to use but powerful in functionality.
Press the shutter button and after 3, 5, 10, 15, 30 or 60 seconds, the picture will be taken automatically.
Set shots in sequences of 2, 3, 4, 10 or 20 photographs: finally in at least one of the photos all subjects have their eyes open.
With geotagging your photos will contain information about where you are.
The timer and sequential shooting functionality are set directly by touching the display.
Send your photos to Flickr, Facebook or Twitter.
Print your photos.
Use Fun Mode to capture people's attention.
Light up the stage with the torch.
Review the photos taken in sequence before saving.
Review your shots in high resolution.