We are really happy to announce the release of our new app for iPhone and iPad users: Clean Text 1.0 for iOS.
This is a video that we posted on YouTube showing the app in action while running on an iPhone 6 Plus:
Here is some text taken from our press release describing the new app:
Clean Text is an essential tool for web masters, graphic designers, developers and magazine editors to reduce text cleanup and editing time, and a great tool for any iPhone and iPad user that needs to cleanup and editing text from emails, documents, or other material. Clean Text quickly performs many essential functions such as removing empty lines, removing unwanted spaces, converting tab characters, smart quotes, and more. In addition to this, the "Clean" and "Clean and Compact" smart actions let you solve with a single tap, the most common cleaning problems of text from email messages, documents and web pages.
Pricing and Availability:
Clean Text for iOS retails at a price of $3.99 USD (or equivalent in different currencies) and is available worldwide through the App Store in Productivity category.
Thank you all for your continued support and encouragement.
We really hope to make you happy with this new app.
Your Apimac Developer Team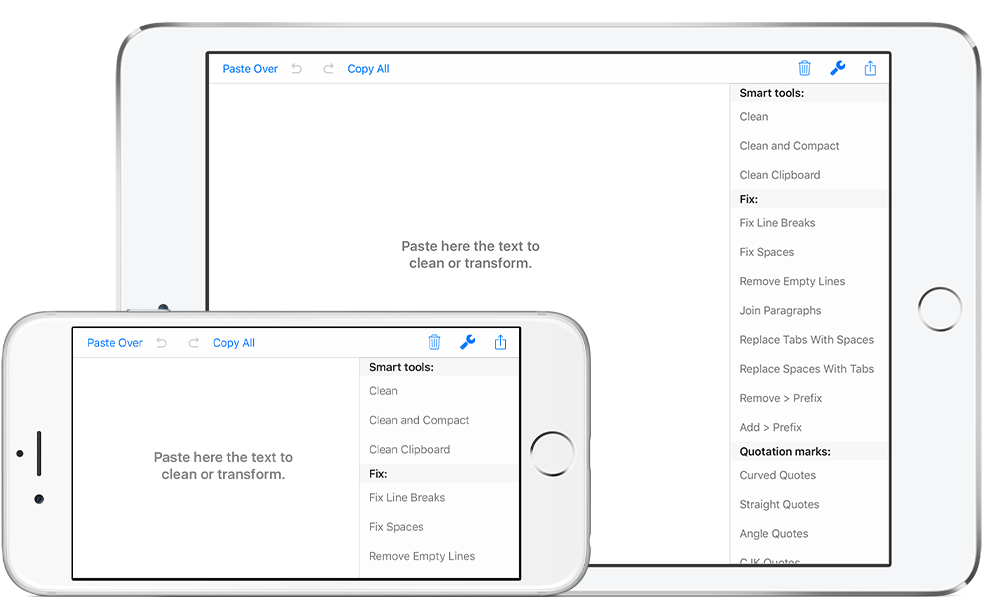 Clean Text for iOS Page
https://www.apimac.com/iphone/cleantext/
App Store Download Page
https://itunes.apple.com/us/app/clean-text/id1039632918?ls=1&mt=8