iNotepad for Mac

Notepad for Mac let's you organize any piece of text you may want to have at hand everyday. Designed from the ground up to support the latest Apple technologies, Notepad allows you to save, copy, paste and organize all your favorite snippets with ease. You can drag the text from other applications, drop a text file from Finder or, of course, write it yourself. Notepad is the "missing notepad application" you've been waiting for.
BOOST YOUR PRODUCTIVITY
Notepad is a great tool to boost your productivity and creative output by not letting those great thoughts and ideas just slip away. A handy Recents List in the Open Window keeps track of your latest edited notes. Notes can be edited at will and text can be customized with a choice of fonts, styles and colors. If you need a hard copy, go to the "Print" function in the menu.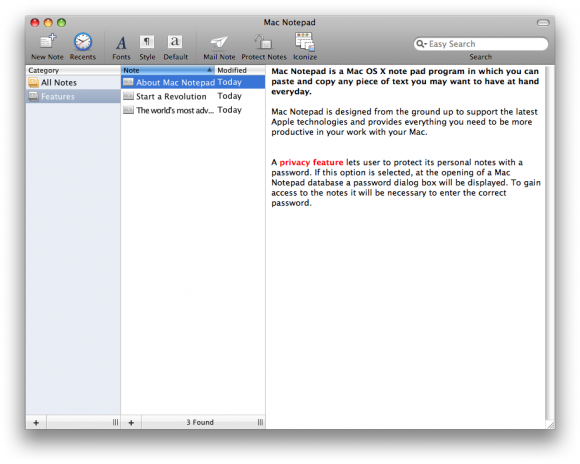 PASSWORD PROTECTION
Our unique privacy features allows you to protect your personal notes with a password. If this option is selected, a password dialog box will be displayed when the Mac Notepad database opens. Please note that forgotten passwords cannot be retrived.
ADVANCED SEARCH
Notepad gives you two search options:
Easy Search:

Matches any text you enter in the search field, even if it's not an exact match. For example, "nice girl" will match "Mary is a nice girl" and "Bernice is a little girl."


Regular Expression:

An advanced search method based on patterns. For example, "nice|girl" will match either "nice try" and "pretty girl." More information on this topic can be found on many websites such as the dedicated page of

Wikipedia

.
INTERNET CONNECTION NOT REQUIRED
All the main features of the application does not require any Internet connection.


SUPPORT
For any product information, please contact our support, we are happy to provide information about our software and technical assistance.

System Requirements of Notepad for Mac:
Mac computer with an Intel processor.
Mac OS X 10.7 or later (Lion and Mountain Lion).
512MB of RAM (1GB recommended).
Approximately 42MB of available disk space.