iMemos for iPhone and iPad
★★★★★ BEST ITALIAN PRODUCTIVITY APP AWARD 2012 IPAD –
macitynet.it
★★★★★
Write on colored sticky notes to remember everything, change their color and drag them around to organize your notice-board: with iMemos you can also add reminders to your notes. Share them via email, SMS or Twitter, and use Dropbox for a complete backup. iMemos is a Universal application, a single purchase for using it both on your iPhone and iPad.

Take note
With iMemos you can remember everything: a phone number, the name of a wonderful place for your holidays, the recipe of a fantastic chocolate cake or some words of love, for a special person in your life.
Write on colored sticky notes and drag them around on the screen to organize your notice-board: change colors, add reminders and share your notes with your friends and colleagues.
You can also archive notes you don't want to delete accidentally and restore them as you need. And if you care of your notes, you can use Dropbox to backup the entire library and restore notes in a snap, also if you deleted iMemos from your iOS device.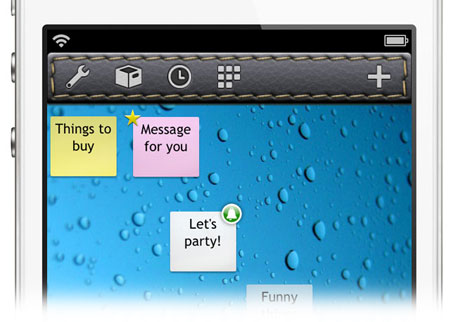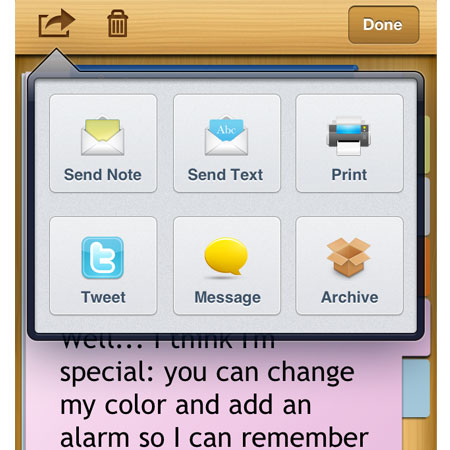 Organize and share your notes
iMemos is perfect for organizing all the small pieces of information you'll put in it. Use different colors to distinguish your notes, add reminders so you'll get a notification on time of any important activity, and share them with everyone you want.
Sharing to everyone, even if they don't use iMemos.
You can share every note via email (as an attachment or plain text), SMS and Twitter, or print it thanks to Apple AirPrint technology support. And if your friends or colleagues use iMemos too, they'll receive your notes, maintaining colors and reminders.
Super-easy reminders.
iMemos truly remembers everything: add a reminder to a note to receive a notification just in time or some minutes before an important meeting or event. It's super-easy and super-convenient (no one could do it better).
All your notes are important, right?.
iMemos can use your Dropbox account to backup your entire library of notes, so a copy of them will always be safe. And if you delete your notes, you can restore them in a snap from your latest backup. You'll also be able to restore your notes after reinstalling iMemos on your device or on a new one.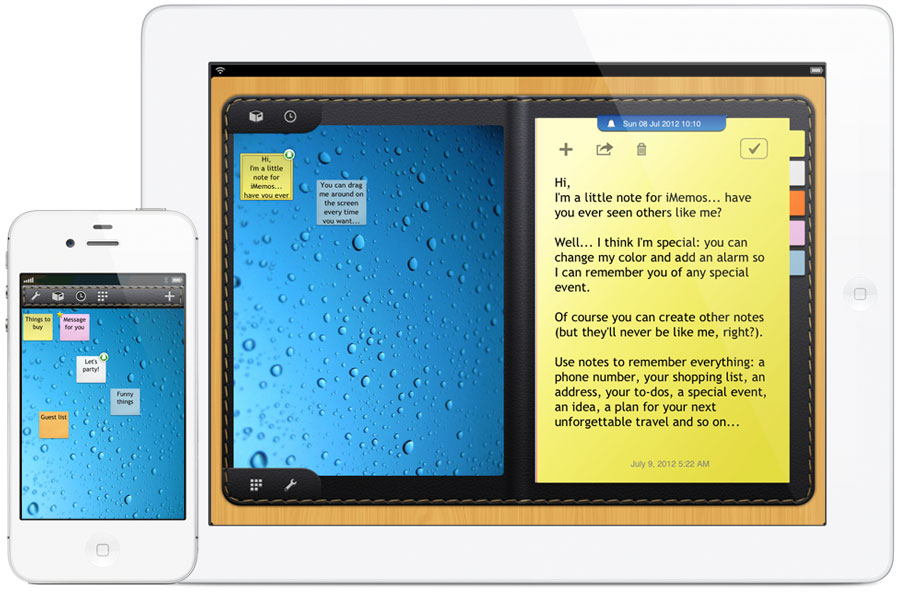 And much more
iMemos is a coffer full of features for your notes:
Change image background and default font
Choose between Classic and Fashion Pink themes!
Change image background shaking your device.
Use a default font you love and change size if needed.
iMemos is extremely easy to use: thanks to a friendly design and some very intuitive features, is practical and comprehensive, perfect for both casual and demanding users.
You won't need any other application.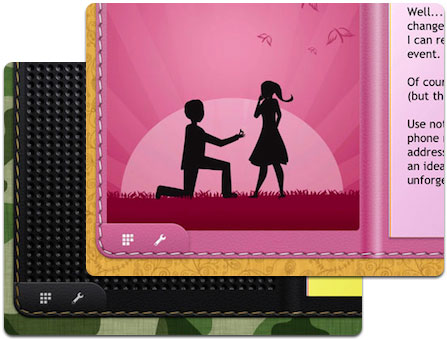 Reviews: