Protect Files for Mac
Encrypting files and folders has never been easier.
Encrypting files and folders has never been easier. Protect Files makes it easy to protect your files, folders and documents with secure encryption and password technology; designed to provide a quick solution that guides users step-by-step in creating and managing encrypted spaces.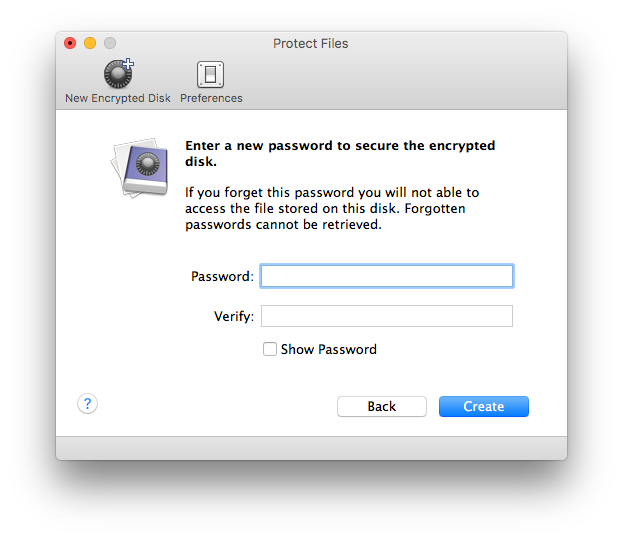 WE ALL NEED TO PROTECT OUR DATA
We live in an electronic world, continuously connected to the Internet, carrying flash memory drives with all our data everywhere we go; we use notebooks, removable disks and private files that are often more important than the devices themselves. The more information and memory supports we carry around, the greater the risk of someone getting a hold of them. We therefore need to protect our data.
COMPLETE SOLUTION OF THE PROBLEM
That's what Apimac Protect Files is for: it's an efficient utility that offers a complete solution to this problem, providing a simple way to create encrypted spaces with the same level of security (AES – Advanced Encryption Standard) used by many governments around the world, such as the United States.
PROTECT FILES GUIDES INEXPERIENCED USERS STEP-BY-STEP
Apimac Protect Files facilitates this task with secure encryption. Specifically designed for those who want a dedicated solution, Protect Files guides inexperienced users step-by-step in the creation and use of encrypted spaces, which are managed through a simple interface that guides you in locking and unlocking documents and folders. An encrypted space is a password-protected space that can reside on your Mac's hard drive, an external disk or USB stick. Safely store folders, documents, photos, videos, music, and all types of files to prevent others from accessing them. The space is displayed as a normal volume on the desktop. When the space is locked, its contents are super-protected. When the space is unlocked, you can move, copy and delete files like on any other memory drive.
Protect Files automatically optimizes the enclosed disk image to reclaim unused space (on portable computers only when the power adapter is connected).
NOTE FOR EXPERT USERS
While expert users might prefer to use Mac OS X Disk Utility to create their own disk image files, this tool is aimed to users preferring a dedicated solution to guide them step by step in creation and use of the encrypted space.
NOTE ON SPACE SIZES
The maximum size of a space created is 99 GB. This limit is used to prevent too long opening and closing of the spaces.