Compress Files for Mac
Easily compress, archive, encrypt and omit invisible files.
Compress Files for Mac is really easy to use: to compress a file, simply drag and drop the file into the app window. You can compress more than one file by dragging multiple items onto Compress Files window, and you can also compress larger groups of files by placing them in a folder and dragging the whole folder onto Compress File.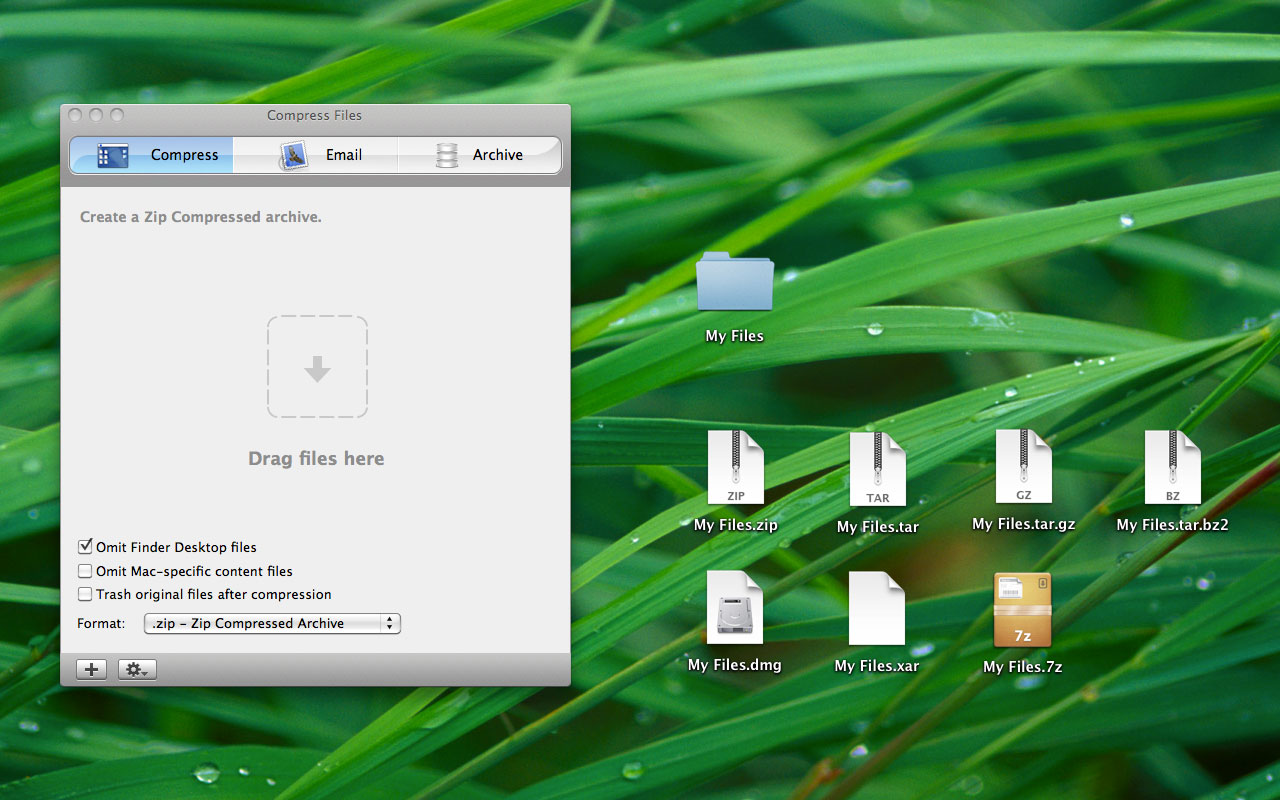 Choose the format
Compress your files in the format you need (at that moment).
One size can not fit all. Sometimes you have to exchange files with your colleagues who use PCs, sometimes you have to compress your files to store them, other times you want your files containing important projects are encrypted. So we've put in a lot of different options Compress Files, it enable you to easily create:
Zip compressed archives (.zip)
TAR archives (.tar)
Gzip compressed archives (.tar.gz)
Bzip2 compressed archives (.tar.bz2)
Xar archives (.xar)
7zip compressed archives (.7z)
Compressed Disk Image (.dmg)
and also:
Zip compressed and encrypted archives (.zip)
Compressed and encrypted disk images (.dmg)
Compressed and encrypted 7zip archives (.7z)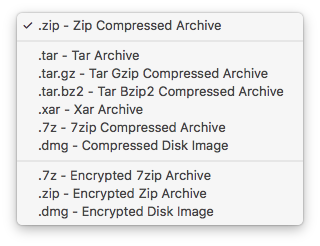 Many reasons to use Compress Files
Omitting mac-specific invisible files

Invisible Mac-specific files can be extremely annoying when you transfer Zip files to other systems. Windows and Linux make these files visible and they could create confusion to recipients that receive your files. Compress Files lets you specify if you want to omit Finder specific information (such as the .DS_Store files) and Mac specific file attributes (such as a resource fork) when creating Zip archives.
Encrypt your files and projects

For high security, you can use Compress Files to encrypt part of your hard disk through the use of an encrypted disk image protected with a password. You can then also email this disk image to other people who know the password. The image will show up as a volume on your desktop. When your Keychain is locked, or when you send that disk image file to another person, the image is secure. When your Keychain is unlocked, you can copy, move and delete files as you would on any normal hard disk.
One of the features most appreciated by power users is Compress and Attach. Drag one or more files into Compress Files window, and quickly you will find a ready-to-send email message with compressed file attached with your preferred options. Even without all those invisible files created by Finder that confuse Windows users, if you wish.
Archive what you no longer need
If you do not use more some files that take up much space on your hard disk and that when looking for something slow down your search because "are always around" or want to keep some files in a safe place. Use the archiving feature of Compress Files: your computer will never been so clean and tidy.
Encryption protocols
What kind of encryption use Compress Files?
When you choose to create a .dmg encrypted file, the app creates an AES-128 Encrypted DMG file.
When you choose to create a .7z encrypted file, the app creates an AES-256 Encrypted 7Zip file.
When you choose to create a .zip encrypted file, the app creates a standard ZipCrypto file.

AES encryption is one of the most secure encryption methods and widely adopted by many governments. See Security section of Advanced Encryption Standard at Wikipedia to learn more. Instead ZipCrypto is rather weak as protection. Keep in mind when deciding which to use. Visit Info-Zip FAQ to learn more.
You can learn more about our solutions for data protection by visiting the Data protection on Mac page, we created it to help you choose the right app.