Clean Text Menu for Mac
The pocket version of Clean Text always available as an icon on the menu bar
Clean Text is the most popular text cleaning and processing tool for Mac. Clean Text Menu is a special version always available as an icon on the menu bar. It has been designed to be used quickly without interrupting the workflow, so it is ideal for fast text editing. If you need to create specific custom tasks or process text in an advanced way with Regular Expressions, the classic version is more suitable for you.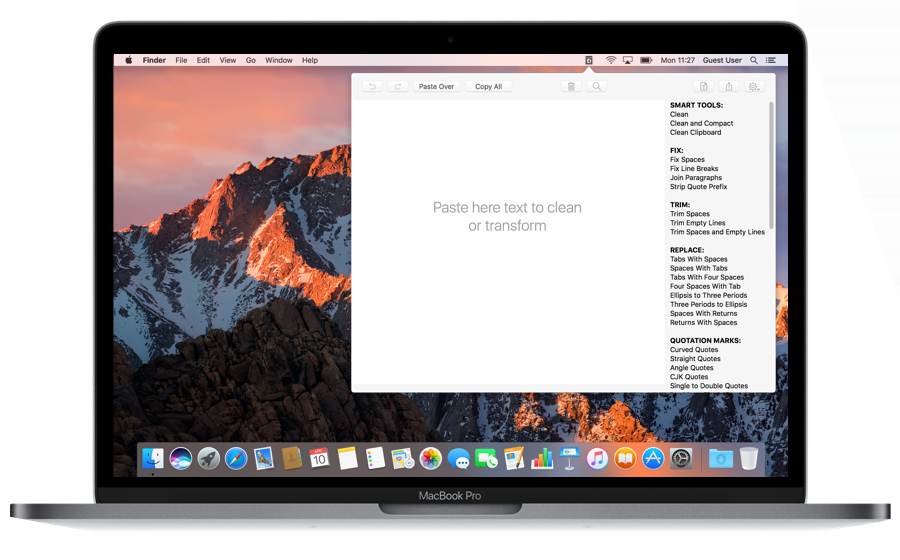 Quick Clean
Solve text problems with a couple of clicks.
Clean Text Menu is always available as an icon on the menu bar and quickly performs many essential text processing functions such as removing empty lines, removing unwanted spaces, converting tab characters, smart quotes, and more. In addition to this, smart actions let you solve with a single click, the most common cleaning problems of text found in email messages, documents and web pages.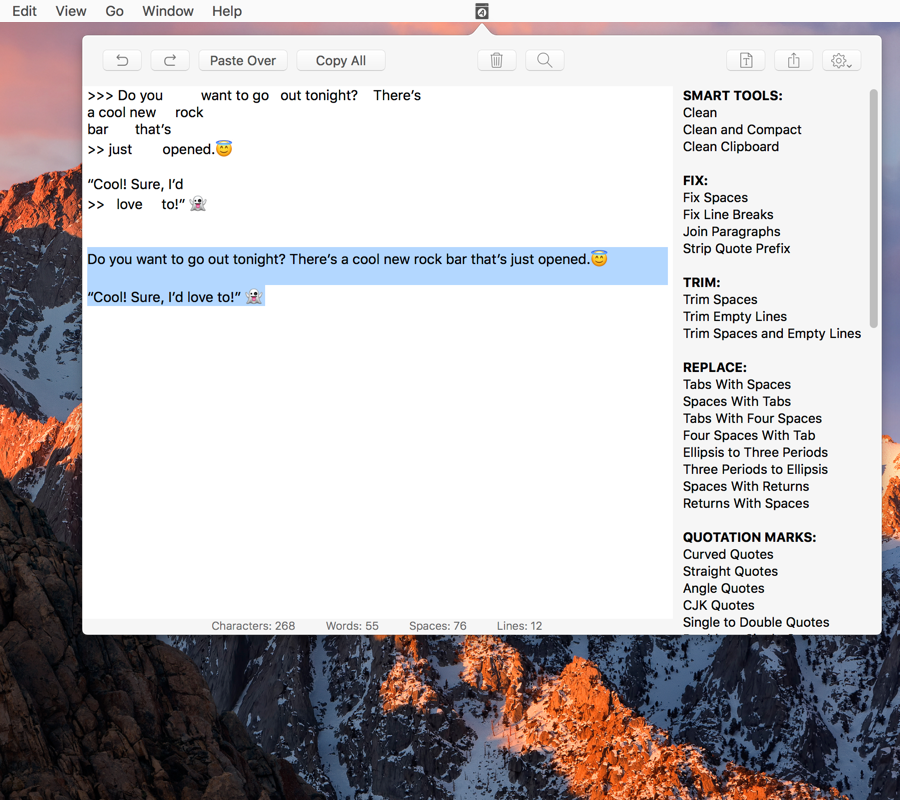 Search patterns
Accelerate your search and replace work.
When you search and replace text, you can use Pattern-based search. Using patterns, in combination with text, you can find quickly tabs, paragraph breaks, page breaks, word starting or ending with a particular character, phone numbers and so on. Just open the Pattern menu item and click on the pattern you want to insert on the find or replace box.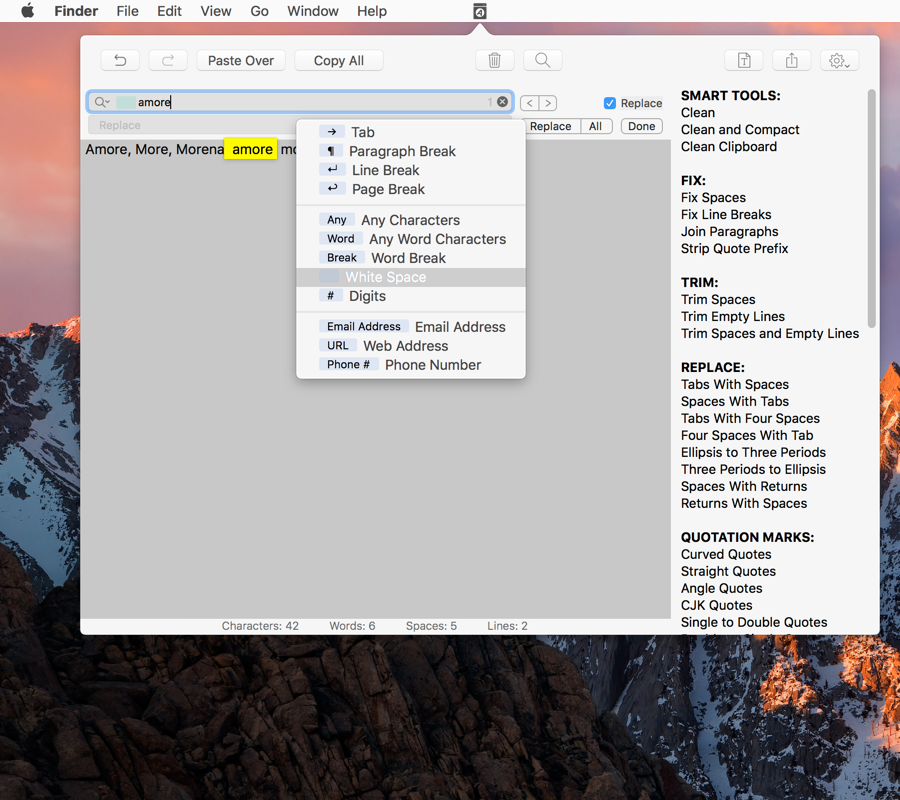 Like the dark?
Switch from Standard to Dark theme.
To Clean Text Menu, also appearance is important, the app automatically switches from Standard to Dark themes to reflect your choice for Menu bar and Dock. If you work a lot on text, the black background will help you to avoid to stress your eyes.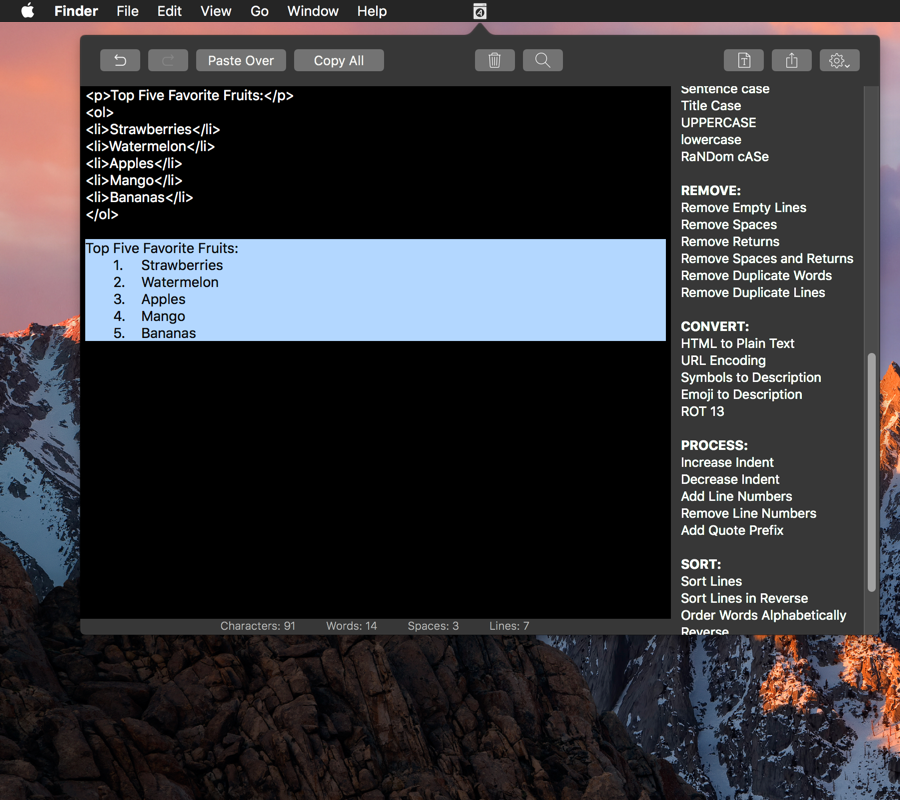 Type on Mac
…and find the text on iOS, and vice versa.
With Clean Text Menu, you can write text on Mac and then find it on any iOS device. You don't have to worry about anything. Thanks to iCloud, you will find in Clean Text for iPhone and iPad exactly the text that you have just typed on Mac.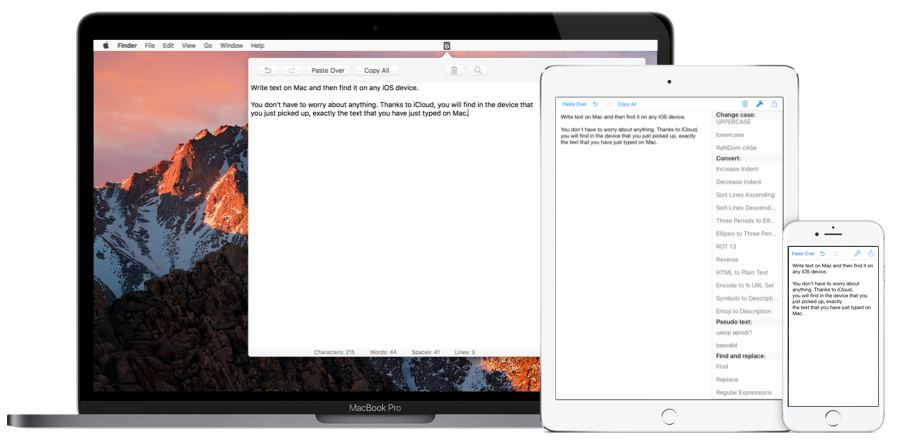 Many reasons to use Clean Text Menu
Simple to use but powerful in functionality.
Clean Text Menu supports the latest macOS technologies, such as: iCloud to access the same text from any Mac and iOS device, Touch Bar for quickly enter Emoji, easy share with Mail, Messages, Note, Reminder, Twitter, Facebook, Linkedin and any other extension to share other apps had installed in your Mac and infinite undoes and redoes. The app is written in Swift, the new fast and powerful Apple's coding language.
The main text processing features of Clean Text are:
Smart Clean and Clean and Compact text.
Clean Clipboard content without the need to paste it in the app.
Fix spaces and line breaks, join paragraphs and strip quote prefix.
Trim spaces and empty lines.
Replace tabs with spaces, spaces with tabs, spaces with returns and returns with spaces.
Convert from three periods to ellipsis and from ellipsis to three periods.
Convert quotation marks: curved quotes, straight quotes, angle quotes and Chinese quotes.
Convert from single to double and from double to single quotes.
Change case to sentence case, title case, uppercase, lovercase and random case.
Remove empty lines, spaces, returns, duplicate words and duplicate lines.
Convert HTML to plain text and URL encoding.
Convert emoji and symbols to their description.
ROT13 encode (replaces a letter with the letter 13 letters after it in the alphabet).
Increase and decrease text indent.
Add and remove line numbers and quote Prefix.
Sort lines, sort lines in reverse, order words alphabetically and reverse text.
Convert to upside down and to mirrored pseudo text.
Total number of characters, words, spaces and lines on the text.
Find and Replace with live highlighting of matches.
Pattern-based search and substitution.
Need more features? The classic version of Clean Text is for you.