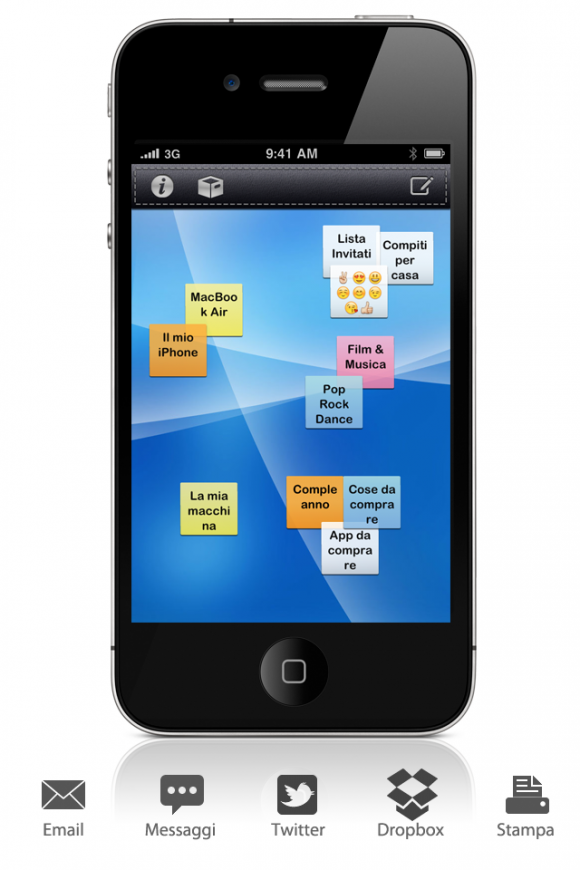 Apimac is pleased to announce Memos 3.0 for iPhone and iPod touch. The new Memos is the perfect app to quickly jot down notes. You can print them, publish them on Twitter or email them to colleagues, family or friends. The archive function allows you to store notes that you want to keep.
Memos transports you into a world where ideas take shape and follow the touch of your fingers to organize themselves just as you imagine them in your mind. The app incorporates professional photography and graphics to create a gallery of images so that users can easily express a range of ideas. Another cool option allows you to change the wallpapers of the iPhone with a shake, which will really amaze your friends.
WHAT'S NEW IN VERSION 3.0
– Completely rewritten app.
– All new design.
– Backup and Restore via Dropbox.
– Exporting notes in text, CSV and proprietary formats via Dropbox.
– Importing notes in proprietary format via Dropbox.
– Assign a color to each note.
– Send notes via text messages.
– Tweet notes with iOS 5 or later.
– Print notes with iOS 4.2 or later.
– New wallpapers.
– Full compatibility to Retina Display.
– Performance and reliability improvements.
– Addressed all know bugs.
Requirements: Compatible with iPhone, iPod touch, and iPad. Requires iOS 3.1 or later.