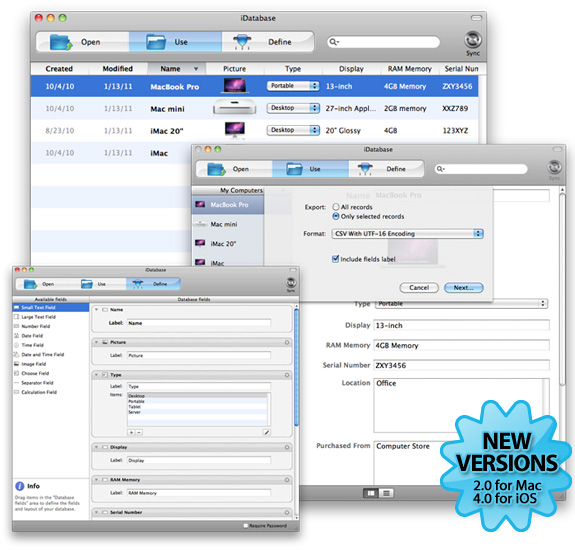 Apimac has released iDatabase 2.0 for Mac OS X. Designed to permit bi-directional syncing between computer and mobile device, iDatabase is a complete personal database management solution. Ideal for tracking membership lists, expenses, projects, Internet accounts, etc., the app includes 16 ready to use templates such as Accounts, Contacts, Exercise Log, Recipes, and To Do. Creation of custom templates is also supported.
The new features of version 2.0 for Mac are:
New import preview window which allows you to define the fields and their labels, and to see a record preview before the import.
New Table view which lets you now create, edit and work with the records in a convenient visual array of all database records.
Ability to set, in both import and export, the first record as record value or as field label.
Improved display of long field labels.
New import database window which lets user define fields, field labels and see a preview of the records before importing.
Ability to set the first record as field label or as record value, both in import and export.
Importing support for Semicolon Separated files and Tab Delimited format files.
Support for importing and exporting files in Unicode UTF-16, UTF-8, Mac OS Roman, ASCII and ISO Latin 1.
Templates exporting and importing.
Optimized synchronization functionality between Mac and iPhone.
User interface improvements.
Various performance and reliability improvements.
Addressed all know bugs.