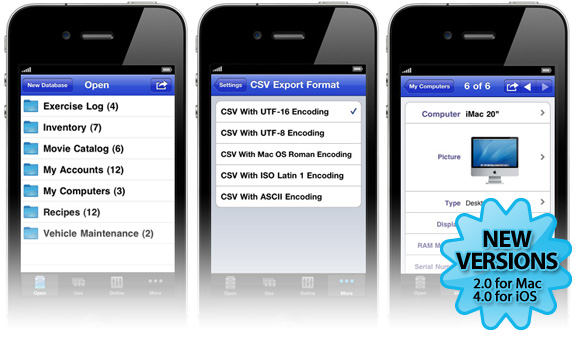 Apimac has released iDatabase 4.0 for iOS. Designed to permit bi-directional syncing between computer and mobile device, iDatabase is a complete personal database management solution. iDatabase is the most intuitive personal database management software for iPhone. The natural and easy way to organize and catalog information for business or hobby.
What is new in version 4.0 for iOS:
Ability to duplicate a database containing all the records.
Ability to create a clone without records of an existing database.
Ability to export a database by email.
Ability to send one or more records via email as PDF, as a card or as a CSV file.
Ability to navigate through the records with new Previous and Next buttons.
New import preview view which allows you to define the fields and their labels, and to see a record preview before the import.
Ability to set, in both import and export, the first record as record value or as field label.
Support for importing files in Semicolon Separated and Tab Delimited format.
Support for importing and exporting files in Unicode UTF-16, UTF-8, Mac OS Roman, ASCII and ISO Latin 1.
Exporting and importing templates.
Optimized synchronization functionality between Mac and iPhone.
User interface improvements.
Various performance and reliability improvements.
Addressed all know bugs.