Piggy Bank Assistant for iPhone

Hi, I'm Piggy Iggy, your new piggy bank assistant. I'm here to help you increase your savings and reach your shopping goals! Some people said I am the best financial advisor in the world but, well, I'm just a piggy that loves savings and the sound of little coins.

Here's how i can help you
Dear friend, all you have to tell me is what product you like – is it that awesome tablet or a new shoulder bag? – and I will help you reach your goal! I'll help you stay focused and keep the motivation high to increase your savings and buy anything you want! As I am fond of saying: "Whatever you want to buy, it is only a few coins away!".
I am not a superhero, but…
…I can really make a difference in your life. Set your shopping goal and start saving money: I will keep track of all the cash and coins that you put in your actual piggy bank and, along the way, I will unlock all the customized prizes I have prepared for you.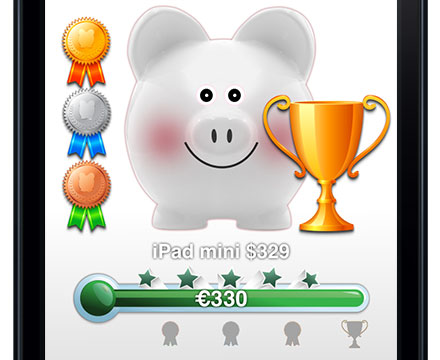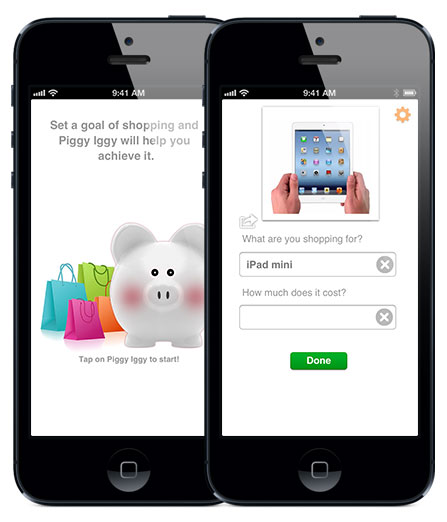 A savings method that works!
People always ask me: "Piggy Iggy, how does your method work?". This is a simple question, but thanks for asking: every time you add cash and coins to your piggy bank you'll come closer to getting the product you want to buy, and this makes me really happy! But if you take money out, well, this makes me really sad! So, if you don't want to see me cry, just keep saving money every day and try to never pick it out!
Convert your spendthrift friends!
Share progress of your shopping goals with your spendthrift friends! Show them how easy it is to save with the Piggy Iggy Savings Method, and turn them into super-savers. Share it all on Facebook, Twitter, Weibo, either by email or text message!
What are you waiting for? Start working towards your first shopping goal today!

Reviews: